Thank you for supporting Scranton Counseling Center and those we serve.
Scranton Counseling Center is a private, nonprofit organization serving the mental, behavioral and substance use disorder needs of the residents of Lackawanna, Susquehanna and surrounding counties in Northeast Pennsylvania.
Our Mission is to promote wellness and recovery by providing an environment which is considerate of and sensitive to the unique, personal and cultural attributes of those we serve, and which empowers them to make choices about their lives, pursue their personal goals and maximize their quality of life while respecting their individual dignity and confidentiality.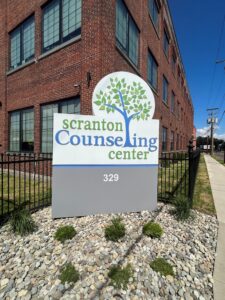 I authorize Scranton Counseling Center to deduct my one-time donation from the credit card submitted on this form.  Scranton Counseling Center's Director of Development can be reached by phone at 570.348.6100, extension 3222 for any inquiries.